Where is La Loma Community Solar?
La Loma Community Solar (LLCS) is located on property owned by Austin Energy adjacent to an existing Austin Energy substation.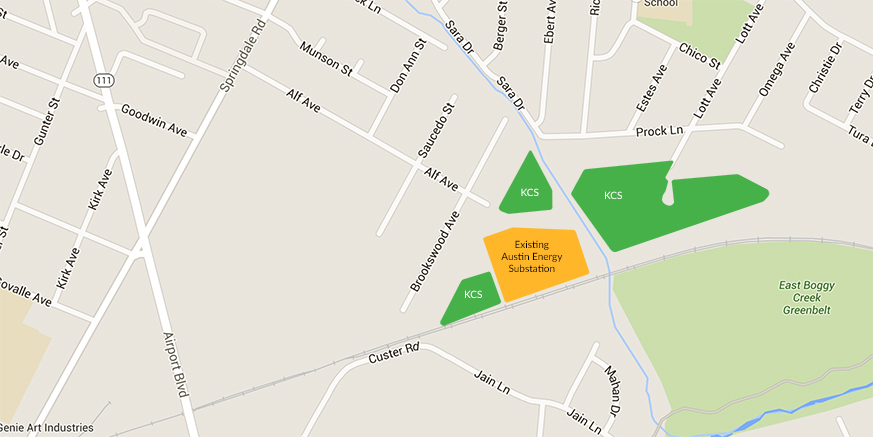 What is Community Solar?
La Loma Community Solar project will provide power to Austin Energy's community solar program. Community Solar is a centralized solar project located within a community that is able to provide solar power to many homes at a lower cost than installing smaller, on-site individual systems. It will allow customers who cannot or choose not to install solar panels on their property to subscribe to energy generated at the site. It is perfect for renters, homeowners with shaded roofs, or anyone who doesn't want to pay for and maintain a solar system at their home.
Learn more at www.austinenergy.com/go/communitysolar
¿Qué es la Energía Solar al Nivel Comunitario?
El proyecto solar comunitario La Loma será el primero que proveerá energía al programa de energía solar comunitaria de Austin Energy. Energía solar comunitaria es proyecto solar centralizado que puede proveer energía solar a muchos hogares a precios más bajos del costo de instalar sistemas chicos individuales en cada hogar. Permitirá a clientes que no puedan o no quieran instalar paneles solares en sus propiedades que se inscriban para recibir energía generada en este sitio. Es perfecto para inquilinos, propietarios con techos sombreados, o para cualquier persona que no quiera pagar y mantener un sistema solar en su hogar.
---
What are the Benefits of Community Solar?
The Community Solar Farm will be a quiet, clean neighbor.
The project produces enough clean energy to power about 400 homes in Austin.
Austin Energy has added a utility-scale battery to the site to provide storage and electricity when the solar panels aren't generating. This makes the East Austin community unique for progressive, new, clean technology.
Building solar projects creates jobs.
An on-site educational area will provide solar information to neighbors, visitors and school children.
Job training opportunities in partnership with the Job Corps program.
¿Qué son los Beneficios de la Energía Solar Comunitaria?
La Huerta Solar Comunitaria (The Kingsbery Community Solar Farm) sería vecino callado, tranquilo y limpio.
Austin Energy agregará una bacteria a gran escala en el sitio para proveer almacenamiento y energía eléctrica cuando los paneles solares no estén generando. En este aspecto la comunidad de East Austin será única en el campo progresista de la nueva tecnología limpia.
La construcción de proyectos solares crea empleos.
Habrá un área para información educativa bilingüe que proveerá información de energía solar a los vecinos, a visitantes y a estudiantes.
Oportunidades de capacitación para empleos se han proyectado en colaboraciones con programas de Austin Community College, Capital Idea y Southwest Key.